Ripley's Believe It or Not!, first published in 1923, is as an iconic part of newspaper comics as perhaps any strip which has ever been published. Over the years Ripley's has grown to more than 100,000 cartoon panels with a peak readership of 80 million people a day.
Why does this matter to Twinsburg? Because our small region has appeared in a Ripley's panel on three separate occasions.
The first was published on December 26, 1962. It featured Moses and Aaron Wilcox, not just because they were Twinsburg first twins, but because of how similar their lives were. Many people remember this particular cartoon panel plastered on the walls of Twinsburg's classrooms in the 1960s.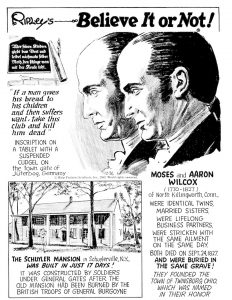 The second, published on December 12, 1993, celebrated the Twins Day Parade and the over 3,000 sets of twins who register for the event.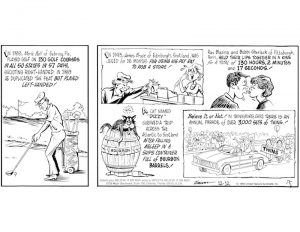 Finally, on August 14, 2003, Ripley's told the tale of Mark Blumenthal's Irish Water Spaniel Spencer. It seems Blumenthal had trained Spencer to clear the table, load the dishwasher, climb ladders and fetch drinks from the refrigerator. A lot of parents were probably jealous of Blumenthal.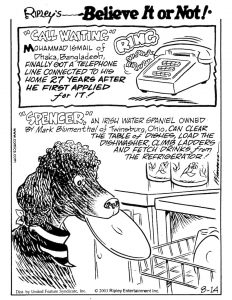 Ripley's celebrates some of the most unique aspects of America, and because of that it makes perfect sense Twinsburg has appeared in Believe It or Not! more often than areas easily twice its size. Just another reason for our region to be proud of its history.